The Federal National Mortgage Association has discontinued its free market auction system for commitments to purchase conventional home mortgages. Therefore, the Commissioner of Financial Institutions hereby announces that the maximum effective rate of interest
Tennessee Department of Economic and Community Development Commissioner Bob Rolfe and Cabinets To Go officials announced today that the Lawrenceburg-based company will expand its operations in Lawrence County. Cabinets To Go plans to invest $6.5 million and create nearly 70 new jobs in Lawrenceburg.
The Tennessee Department of Mental Health and Substance Abuse Services (TDMHSAS) has announced the recipients of the Pre-Arrest Diversion Infrastructure Grants. "The research indicates people with mental illnesses tend to stay in jail longer and when released, face a higher recidivism rate," said TDMHSAS Commissioner Marie Williams.
Today the U.S. Environmental Protection Agency (EPA) recognizes the efforts of the Department of Energy's East Tennessee Technology Park in Oak Ridge, TN for taking steps to improve efficiency, save resources and reduce costs as part of the Federal Green Challenge (FGC).
U.S. Sen. Lamar Alexander (R-Tenn.) says the Army Corps of Engineers Work Plan for Fiscal Year 2017 includes good news for all of East Tennessee – and everyone who benefits from river traffic passing through the Chickamauga Lock in Chattanoog
Tennessee Department of Environment and Conservation Commissioner Bob Martineau announced today the City of Cleveland as the latest participant in the Tennessee Qualifying Local Program (QLP). The program aims to eliminate the duplicative efforts at the state and local level in the stormwater permitting process
The Tennessee Department of Environment and Conservation (TDEC) today lifted a water contact advisory for the North Fork Holston River in Hawkins and Sullivan Counties that went into effect on April 28. A sewer line break in Weber City, Virginia was repaired on Friday and no sewage is entering the river from that location any longer
The Memphis Area Association of REALTORS® Commercial Council honored the top performers in commercial real estate for 2016 at the 16th Annual Pinnacle Awards gala held April 6 at the FedEx Event Center at Shelby Farms. Coming away with the evening's highest honors were Commercial Hall of Fame inductee Dan Poag, of Poag Shopping Centers, and Wyatt Aiken Commercial Broker of the Year winner Johnny Lamberson, of CB Richard Ellis Memphis.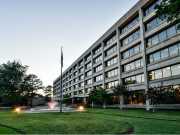 Bayer U.S. has hired JLL to market for sale or lease its 43-acre, six building, 1 million-square-foot research and development center in Memphis. "The 43-acre former Bayer Research and Development campus represents an ideal redevelopment opportunity for healthcare corporations and other users seeking well-located sites in and around the Mid-South region," said Jack Wohrman, SIOR, JLL Vice President.
More
...
The Tennessee Department of Environment and Conservation's mobile household hazardous waste collection service will be in Giles, Pickett and Rutherford Counties on Saturday, Nov. 5. Since the program's inception in 1993, more than 322,000 households have properly disposed of more than 21 million pounds of material.