Home
Housing & Development
The Memphis Area Association of REALTORS® Commercial Council honored the top performers in commercial real estate for 2016 at the 16th Annual Pinnacle Awards gala held April 6 at the FedEx Event Center at Shelby Farms. Coming away with the evening's highest honors were Commercial Hall of Fame inductee Dan Poag, of Poag Shopping Centers, and Wyatt Aiken Commercial Broker of the Year winner Johnny Lamberson, of CB Richard Ellis Memphis.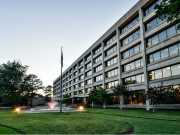 Bayer U.S. has hired JLL to market for sale or lease its 43-acre, six building, 1 million-square-foot research and development center in Memphis. "The 43-acre former Bayer Research and Development campus represents an ideal redevelopment opportunity for healthcare corporations and other users seeking well-located sites in and around the Mid-South region," said Jack Wohrman, SIOR, JLL Vice President.
More
...
The Tennessee Department of Environment and Conservation's mobile household hazardous waste collection service will be in Giles, Pickett and Rutherford Counties on Saturday, Nov. 5. Since the program's inception in 1993, more than 322,000 households have properly disposed of more than 21 million pounds of material.
The Tennessee Housing Development Agency has announced the winners of the 2016 Tennessee's Best awards during the Governor's Housing Conference held this month in Nashville.
Pursuant to Tenn. Code Ann. § 45-1-118(i), Tennessee Department of Financial Institutions Commissioner Greg Gonzales announced today the annual supervision fee for non-depository financial institutions in fiscal year 2016-2017, effective October 14, 2016. The fee is $1,025.00 for mortgage licensees and flexible credit licensees, and $625.00 for all other licensees and registrants, except mortgage loan originators, w
Arkansas Attorney General Leslie Rutledge released a statement today after the conclusion of oral arguments in West Virginia v. EPA, the court challenge to the Environmental Protection Agency's Clean Power Plan
Executive directors from all 50 state housing agencies have cast their votes, and Tennessee's Ralph M. Perrey has been elected vice president of their national organization. The National Council of State Housing Agencies (NCSHA) is hosting its annual conference in Miami this week. Elections for the organization's five-member executive committee were held Sunday, Sept. 25. Perrey, who leads the Tennessee Housing Development Agency (THDA), previously served two terms as secretary/treasurer of the organization
During a hearing today on oversight of the U.S. Department of Housing and Urban Development (HUD) inspection process, U.S. Senator Bob Corker (R-Tenn.), a member of the Senate Banking, Housing, and Urban Affairs Subcommittee on Housing, Transportation, and Community Development, expressed the need for improved oversight of federally subsidized housing properties and thanked Senators Marco Rubio (R-Fla.) and Bill Nelson (D-Fla.) for highlighting the problem of neglectful landlords at HUD-subsidized facilities, including some owned by the Cordova, Tennessee-based Global Ministries Foundation (GMF).
Tennessee Housing Development Agency has launched a new interactive map with details on every active or under-construction apartment community in the state built or rehabbed with the assistance of federal tax credits.
The Tennessee Housing Development Agency has announced a $287,500 grant to help Intunity, formerly known as the Housing Foundation of West Tennessee (HFWT), acquire and renovate eight homes in Madison County for the needs of individuals with intellectual and developmental disabilities